Frater Henry Bui Nguyen, SCJ, is doing the second half of his pastoral year in Ecuador. He recently wrote a reflection on his first months there:
I have been in Bahia de Caraquez for the past two months after ascending down the mountain, or the sierra (Quito) as it's known here, six hours later arriving at my new residence.
My experience in Bahia differs from Quito; Quito, being the capital, had a city feel to it. Bahia is a coastal city, but it has been hot! It is on average 80 degrees here daily, even at night. You can still feel the scorching heat. My little fan is almost always on. Few houses here have air conditioning. When there is a breeze outside, I am tempted to open my window and let the breeze in, but in with the breezes comes the mosquitos.
My day starts with community Adoration followed by breakfast. After breakfast is a work period where SCJs go out to the parishes and other sites. We come together for lunch and afterward is another work period. We end the daily with a light dinner together after Masses at the parishes (La Merced Parish at 7:00 pm or San Jorge at 7:30 pm).
The SCJs in Ecuador are heavily involved in social work and being with the people. Click here to read an article written by one of my Dehonian confreres that outlines many of these efforts.
Virtual classes; real ministry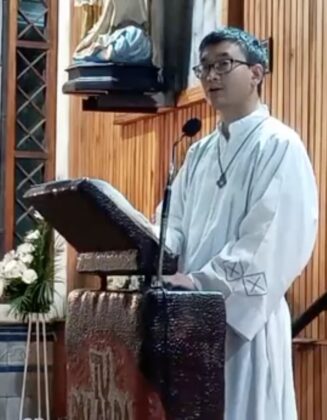 My Spanish immersion program isn't your typical program, which is normally four to six hours a day, four to five days a week, in the classroom, with several other students. Instead, it's two hours a day, for three days a week, on Zoom, with just the professor and myself. As I planned the program with my instructor and local coordinator, we  agreed upon this format and program as it was built around my ministry days at the Campo (rural, farm, countryside) and at the prison on Fridays.
After weeks of being in a modified Spanish immersion experience, I slowly recall the Spanish I had long forgotten that I had learned in high school and college dating back from 2003-2011. Slowly but surely words and phrases started to click, it's been great to understand more now than what I started with.
Some have asked, "What is it like being in Ecuador?" I tell them it's like watching a Telenovela, 24/7, but with no subtitles. Sometimes I get what's going on by the context and nonverbal gestures. Speaking of Telenovelas, I find myself tuning into Spanish TV shows at night, trying to make sense of the conversation and learning the language.
People here in Ecuador and back home in the US have asked what I have been doing since I gotten to Ecuador, and I share, "Estoy aprendiendo Español, poco a poco, trying new food, and having new experiences."
Most of my time here involves accompanying others. I have been accompanying two groups, one called "Caritas" and the other being "Los Jovenes." I also visit the local prison. The people here in Ecuador have been so welcoming and nice. I have been able to visit the sick, the dying, the youth, and the imprisoned. I have been to baptisms, weddings, the anointing of the sick, and funerals. I am a part of the full circle of life of the Ecuadorians.
I have been to our three parishes and many chapels here in Bahia. I have found the people to be faithful, the parishes are filled – with social distancing – daily. At Mass, at least several times a week, people bring jugs of water and other objects, such as a baby Jesus to be blessed by the priest. Sometimes dogs find their way into the church as well. The streets here in Ecuador are filled with dogs and chickens.
I have been given the opportunity to share God's words at the ambo and help at the altar. On the second Sunday of Lent I  shared a reflection after the Gospel reading of the Transfiguration of Jesus. A lady came up to me after Mass and thanked me for sharing. She said she understood my Spanish but most importantly, my message about Lent and the transfiguration of Jesus.
A friend recently sent me a video of a priest. At first, I thought that was random, but it turned out it was of a Vietnamese priest who actually lives here in Esmeraldas (six hours away). He said, "We are Vietnamese, we have the ability to adapt to any culture… Love the language that you are going to learn, and then you have to be active… you have to speak with people, you know you will make some mistakes."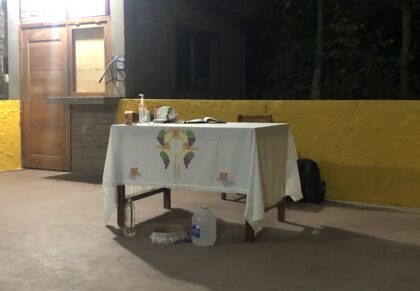 That resonated with me, as I hate making mistakes and always want to get it right on the first try.
I have been able to prepare several semi-authentic Vietnamese dishes to share with the community. Living on the coast, in a small city, such ingredients have been hard to come by. On February 11, the day before Vietnamese Tết (Lunar New Year), I was able to prepare some traditional Vietnamese New Year food for the community to enjoy. But what I would do for a bowl of phở, well maybe not here in Bahia, in Quito for sure.
The conditions that I am living in are new for me, but it is the life of all those whom I have encountered. From those who barely have enough to get by for the day, to the poorest of the poor, those who barely have access to clean water, energy, and living in the aftermath of the 2016 earthquake that devastates this area still today. I learn to appreciate even the small things in life more. I miss the United States and my confreres there. Thank you for always keeping me in prayers. Un gran abrazo.