"A pedagogy of the heart means a holistic approach; it means approaching the entire person, not just a student's academic needs. Teaching our students in this way will help them to use a holistic style in other areas of their life, including their interaction with others, as they become adults and take on roles within their communities."
-Br. Diego Diaz, SCJ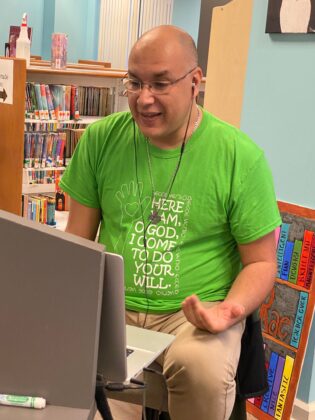 "I am the son of educators," said Br. Diego Diaz, SCJ. "Helping people to learn –– especially children –– has been important to me since I was very young. When I was a child, I even played being a teacher during make-believe games."
It was this passion for teaching, but also in finding ways to help people to learn, that interested Br. Diego in the field of Psychopedagogy. Psychopedagogy is an area of study that focuses on human behaviors related to education, learning and vocational aptitude. It looks at how people learn, and how to create environments that can aid in the learning process.
In early April, Br. Diego completed his final project toward a master's degree in Psychopedagogy from the International University of La Rioja (Spain). Many of the field's experts are based in the country. Br. Diego did his studies online while serving with Sacred Heart Southern Missions in Mississippi. Much of his ministry involves assisting bilingual (Spanish / English) students achieve their educational goals.
The basis of his master's project was on SHSM's summer programs for children; in particular, he focused on a youth program that took place in July, 2019, in Walls, MS. Br. Diego said that summer camps can be an ideal learning environment because "they allow the emotional space for learning, playing and socializing; it is a holistic approach to learning."
Many of the children who take part in SHSM's summer programs are from low-income households. They are families whose children often depend on subsidized meals during the school year as a part of their regular nutrition. When school isn't in session, food insecurity is a daily concern for these families. Something that many people take for granted –– regular meals –– is an essential piece of a healthy learning environment.
The summer program, which included breakfast, lunch and a snack, is vital for the children's physical well-being, as well as their social and educational health.
Beyond meeting the children's basic nutritional needs, there were four components to the summer program: art, sports, community life (working on creative projects through play with peers to enhance socialization skills), and interior space or personal reflection. Participants ranged in age from 4-13.
In his master's project, Br. Diego sought strategies to enhance the program, including the interaction of the staff (many of whom were volunteers), to have the greatest positive impact on the children.
"We need to value experience while also allowing for innovation," said Br. Diego in discussing how outside sources can best assist an established program. "In the end, our goal –– together –– is to promote the dignity of people, the educators and staff, as well as the students, in transforming their lives. Education is the basis for the transformation of people through compassionate and creative structures…
"Dehonians have much experience in the field of social pedagogy; this is a work, or a ministry, that is significant for our religious community wherever we are in the world. The pedagogy of the heart was essential to Fr. Leo John Dehon, our founder. It was a part of his charism, and so it is essential to our educational method as Dehonians. A pedagogy of the heart means a holistic approach; it means approaching the entire person, not just a student's academic needs. Teaching our students in this way will help them to use a holistic style in other areas of their life, including their interaction with others, as they become adults and take on roles within their communities."