"Let us give thanks to God for Leo Dehon's life and all he did that shapes our lives.  And let us thank God for His great love, which Dehon preached to all who would hear."
-Fr John Czyzynski, SCJ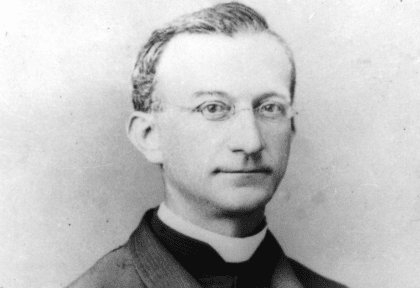 Today, March 14, is the 175th anniversary of the birth of our founder, Fr. Leo John Dehon. The following is the homily given this morning at the Sacred Heart Community Mass at SHML. Although it was written by Fr John Czyzynski, SCJ, he was stuck in his room with a virus so Fr. Jim Schroeder, SCJ, read it to the community. 
When someone in our community celebrates his birthday, he gets to choose the menu for the main meal, the type of food we'll enjoy as we gather to celebrate.  That image came to mind as I reflected on the readings we have for today.  Father Dehon did not choose these, but they are the food for thought that is providentially given for our reflection as we celebrate the 175th  birthday of Fr. Dehon.  As I said, he didn't choose these, but I believe he smiles approvingly at what has been given for this occasion.   So let's look at our scriptures for today.
Devotion to the Heart of Jesus is devotion to the love of God incarnate in Jesus and symbolized by His pierced Heart.  We know God's love for us because Jesus made that love present among us with His Body and Blood.  We know how much God loves us because we experience it in Jesus.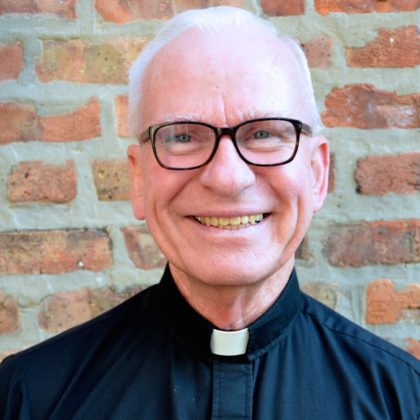 The way the gospel for today states that, is:  "…the Son cannot do anything on his own, but only what he sees the Father doing, for what he does, the Son will do also…"  Without being deprived in any way of His freedom, Jesus did the loving things He did and He died for us because He knew that is what His Father wanted.  He could not want to do anything but that, because the two are so perfectly united in their love for us.
The gospel goes on to tell us:  "…the Father does not judge anyone, but he has given all judgment to the Son."   How does Jesus exercise that judgment?  Listen again to what we hear in the psalm and repeated in our response to the first reading:
THE LORD IS GRACIOUS AND MERCIFUL. The Jesuit Paul Robb pointed out that the Latin word for MERCY (MISERICORDIA) is made up of two words:  "miser" (wretched) and "cordia" (hearts).   To say God/Jesus is merciful is to say God's heart goes out to those whose  condition in life is wretched for whatever reason.  THE LORD IS GRACIOUS AND MERCIFUL.
The psalm goes on:
THE LORD IS SLOW TO ANGER AND OF GREAT KINDNESS
GOOD TO ALL
COMPASSIONATE TOWARD ALL HIS WORKS
HE LIFTS UP ALL WHO ARE FALLING
RAISES UP ALL WHO ARE BOWED DOWN
NEAR TO ALL WHO CALL UPON HIM
All these beautiful expressions are like waves of comfort washing over us, letting God's love for us soak in, as it were.
In addition to that, we have that powerful feminine image of God's love for us, which is given in our first reading from Isaiah.  If there is any image or paradigm of love that is universally accepted among people, it is the image of the bond of love that exists between a mother and her child.  Speaking through the prophet Isaiah, God places that image before us. We expect that the love of a mother for her child should never fail.  But we know that tragically, at times, it does. When that happens, it touches us with profound grief.  God says that even if that love which we never expect to fail should do so, God's love for us will never fail.  God never forgets us.  (The next verse which is not in today's reading says:  "God has carved us on the palm of God's Hand."  Dehon might say it as, "God has carved on God's heart.")
The awareness of that great love of God for us, incarnate in Jesus and symbolized in His heart, is what filled Leo Dehon and gave energy, purpose and mission to his life.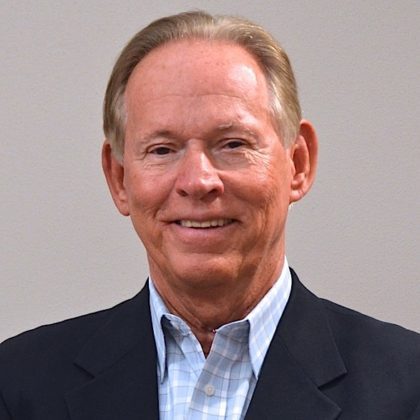 The last words in our gospel for today are Jesus' words:  "I do not seek my own will, but the will of the one who sent me."   That was the theme of Jesus' life, so much so that when the author of the letter to the Hebrews was seeking words to express Jesus' disposition at the moment of the incarnation, he places on the lips of Jesus the words of Psalm 40:  "Behold I come to do your will."   "That is what my life is all about," Jesus is saying.
Father Dehon used those words to name the disposition that should be present in all of us who are his spiritual sons and daughters.  He was faithful to that attitude, so much so that as he lay dying, he could point to Jesus hanging on a cross and say:  "For Him I lived.  For Him I die."
As we celebrate Fr. Dehon's life, we ask that he intercede for us, so that that attitude which governed Jesus' life and Fr. Dehon's might be the guiding principle in our lives.
Let us give thanks to God for Leo Dehon's life and all he did that shapes our lives.  And let us thank God for His great love, which Dehon preached to all who would hear.